Hello blog hoppers! I'm super excited to be a part of the Windham Fabrics blog hop celebrating designer Dinira Mirtalipova's new fabric line called Swim Team. How fun are these prints?!?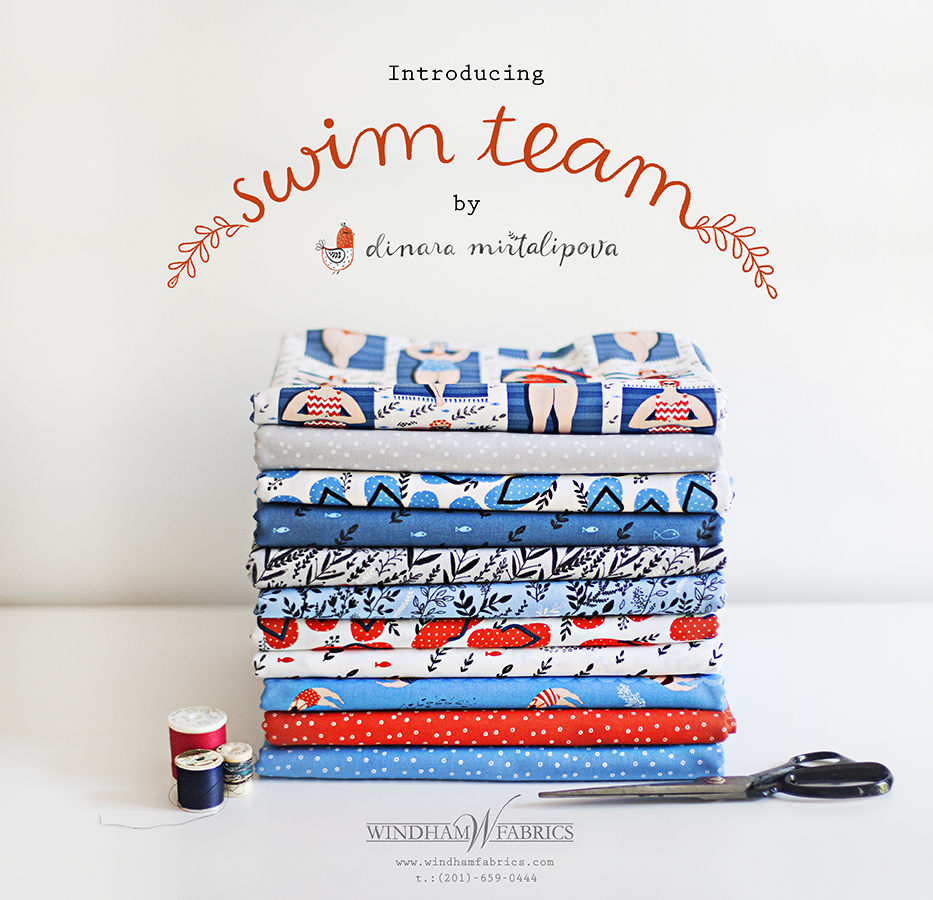 I love the hand-drawn sketchy feel to many of them and there's even fun little fish hidden in a few of the prints. I have a new quilt pattern coming out next week that uses this collection that I'll share soon but how about a tote to tide you over until then? (Oh, and don't forget to check the bottom for all the details on how to enter to win 1 of 2 Fat Quarter bundles I'll be giving away!!) GIVEAWAY NOW CLOSED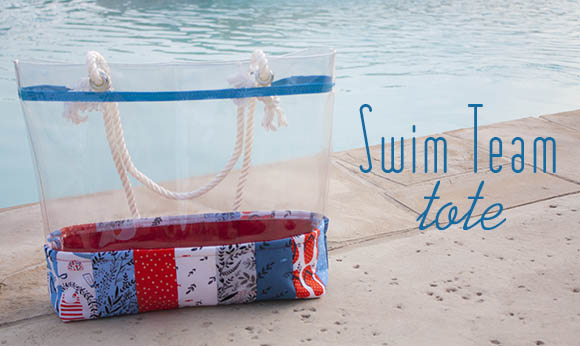 Swim Team Tote
Finished Size: 14″ w x 13″ h x 4″ d
You'll need the following to make your own Swim Team tote:
(2) 12″ x 18 1/2″ pieces of medium weight clear vinyl (I use the 16 gauge from Joann Fabrics.)
(18) 2 1/2″ x 8″ strips of Swim Team Fabrics
(2) 8″ x 20″ rectangles of coordinating fabric for lining
(4) 8″ x 20″ rectangles of cotton quilt batting
1 1/4 yards of 1/2″ wide double fold binding
2 yards of rope for handles (found at the local home improvement store)
(4) 7/16″ metal grommets and setting tool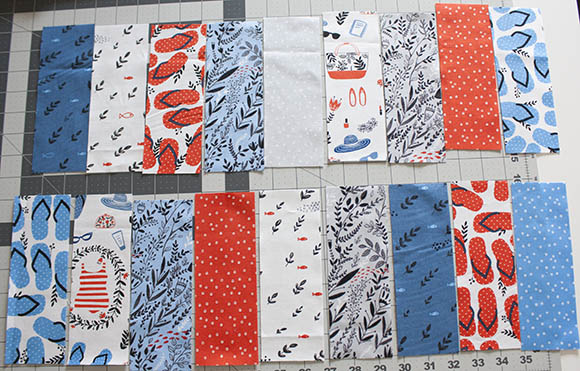 Step 1: Divide your 18 strips into two piles of 9 strips each and lay out how you'd like them to be.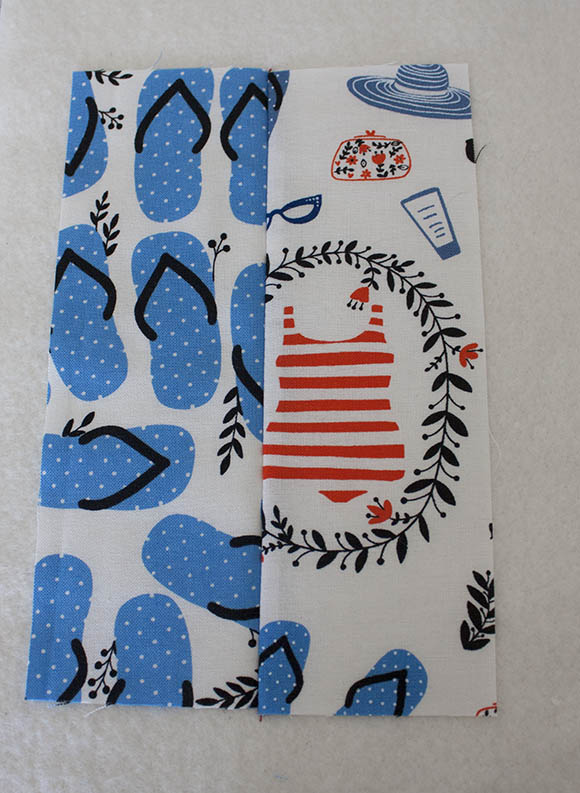 Step 2: We'll use a quilt as we go method to finish up the bottom of the bag quickly. Make a quilt sandwich with the lining rectangle, two pieces of cotton batting, and layout the first of the strips. Lay the 2nd strip, right side down on top of the first strip. Stitch a 1/4″ seam to hold in place.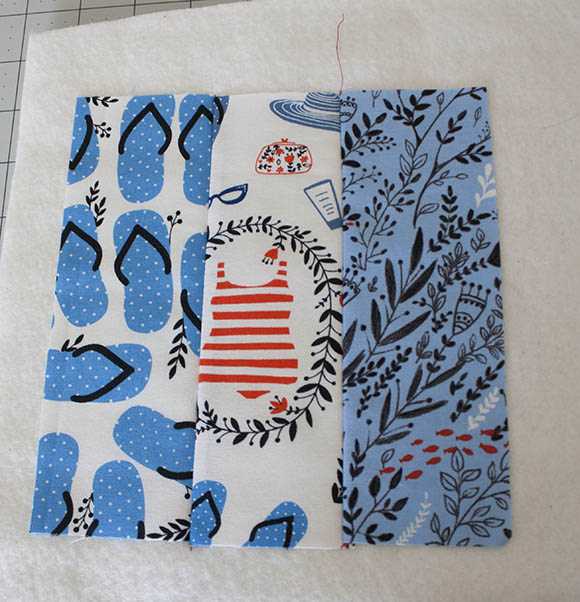 Flip the 2nd strip over and press the seam, then line up your 3rd strip and sew. Continue this process for all 9 strips. Then make another quilt sandwich and repeat the entire process.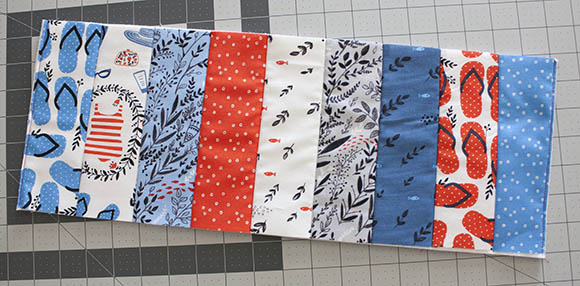 When finished, trim down these pieced rectangles to 7″ x 18 1/2″.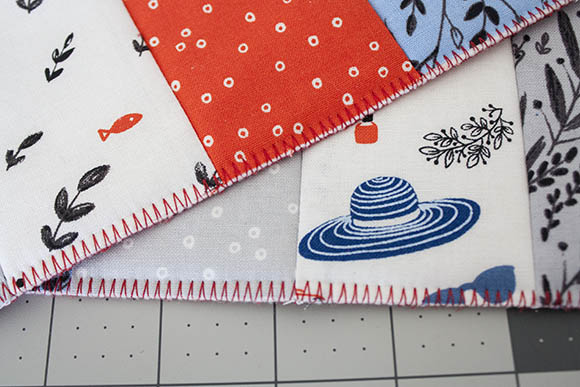 Serge or zig-zag the edges to keep the fabric from fraying.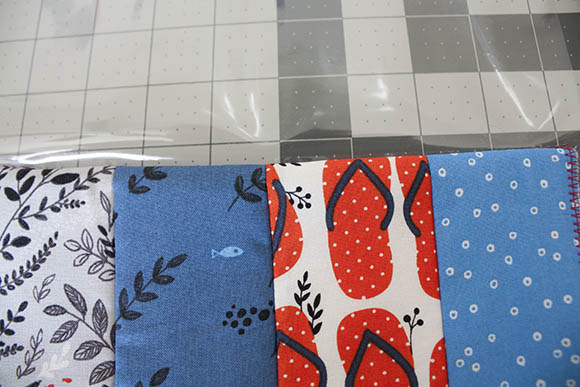 Step 3: Sew one piece of clear vinyl to one of the quilted rectangles using a 1/2″ seam along the 18 1/2″ edge.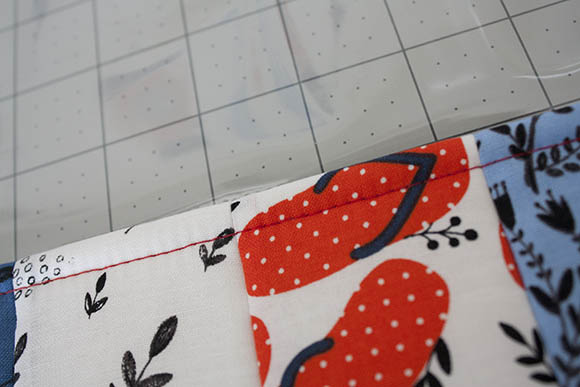 Fold the seam down towards the fabric and topstitch. Repeat this step for the other vinyl and rectangle piece.
*A few quick tips for sewing with vinyl. I used my Janome Ultraglide foot. Use a teflon or non-stick foot if you have one. If not, place a small strip of tissue paper or tear-away stabilizer on top of the vinyl to keep it from sticking to the machine foot. Also be sure to lengthen your stitch length to somewhere closer to 3. This will make it easier to stitch through the vinyl.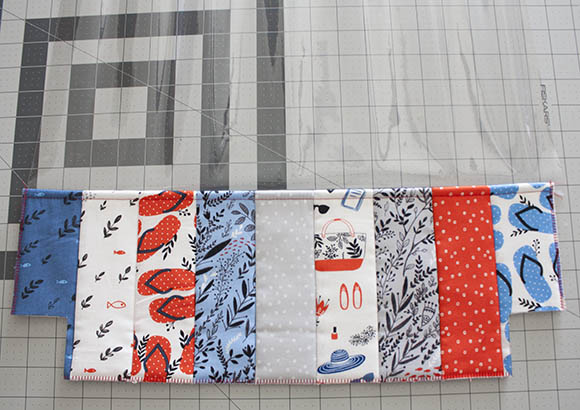 Cut out a 2″ square from each of the bottom corners.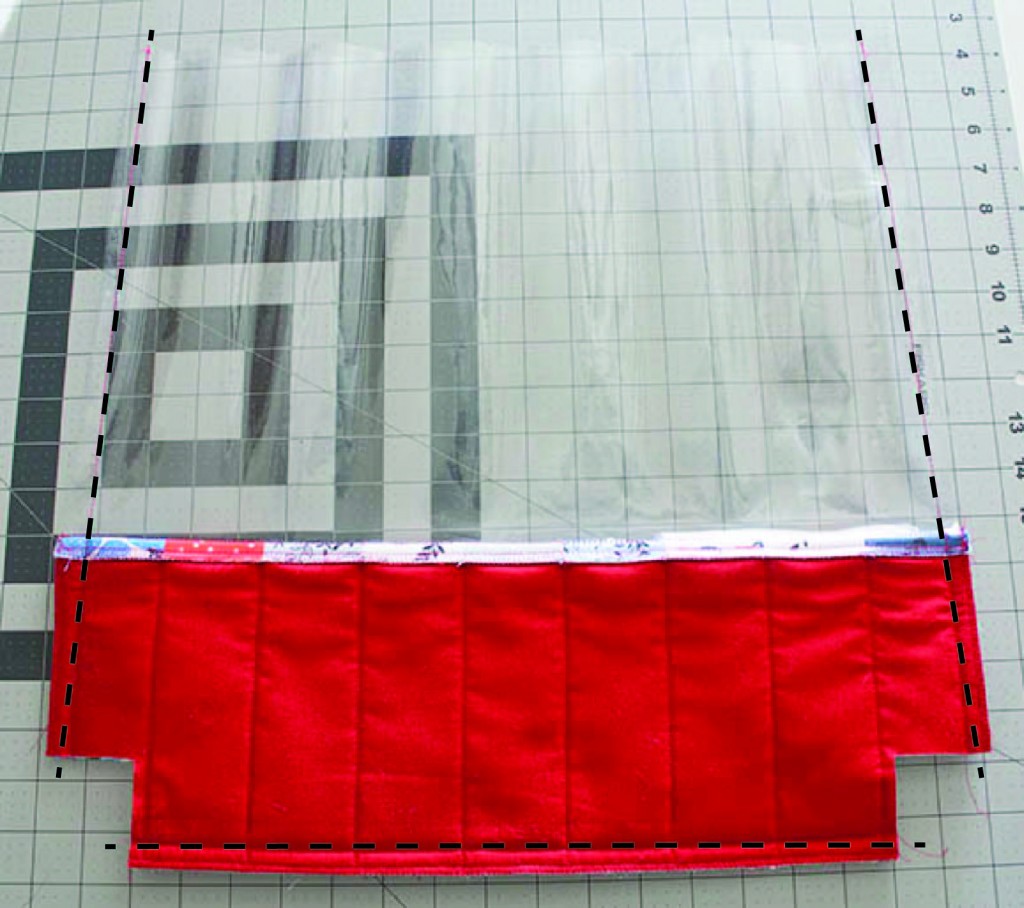 Stitch the straight side edges and bottom edge with a 1/2″ seam.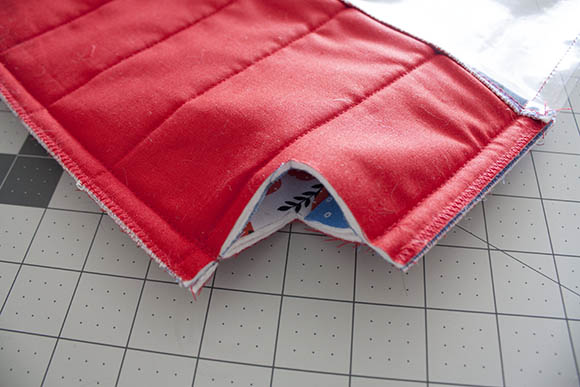 Pull the corner edges out and flatten to form the bottom gusset of the bag.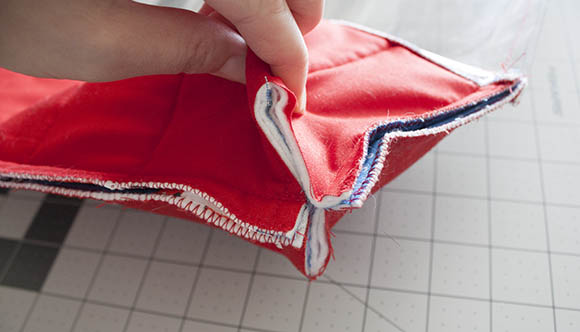 Stitch using a 1/4″ seam.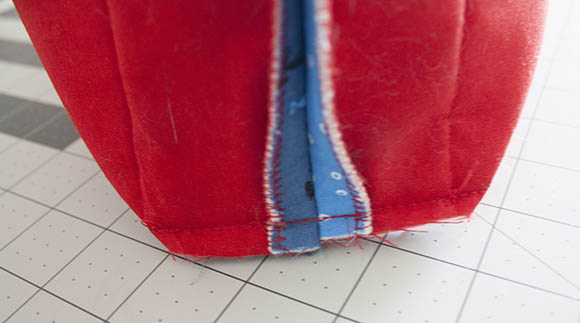 Finish the edges using a serger or zig-zag stitch.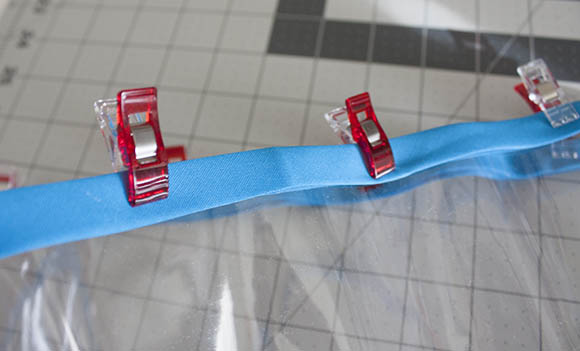 Use the binding to cover the top edge of the vinyl. Clip it in place.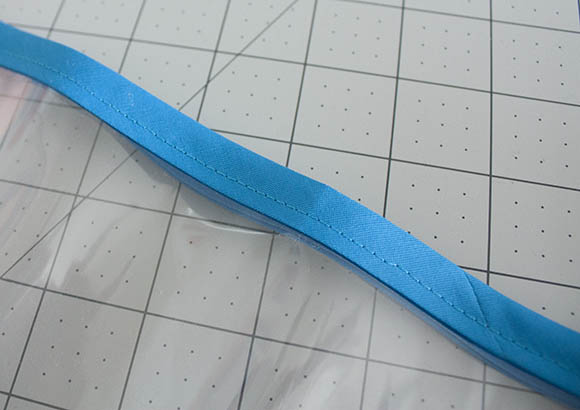 Use a straight stitch along the edge to secure.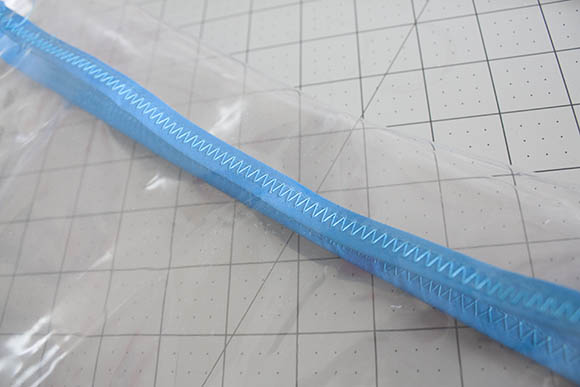 Fold over the top edge 2″ and use a zig-zag stitch to secure the 2″ fold. Stitch directly on the binding to keep things nice and even.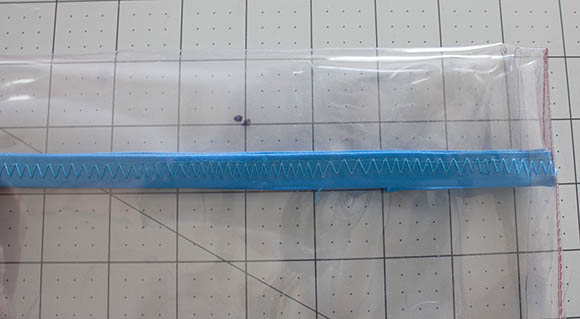 Measure in 4 1/2″ from the side seam and down 1″ from the top and make a mark.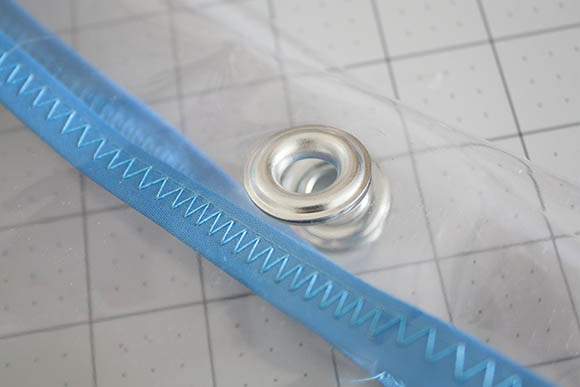 Using the installation instructions on the grommet package insert grommets centered on the mark. (To easily cut the hole out for the grommet I used a single-hold paper punch to punch out the center of the vinyl.) Cut the rope into (2) 32″ pieces. Insert each end into one grommet and tie a knot to secure. Pack up your tote and you're ready for some summer fun!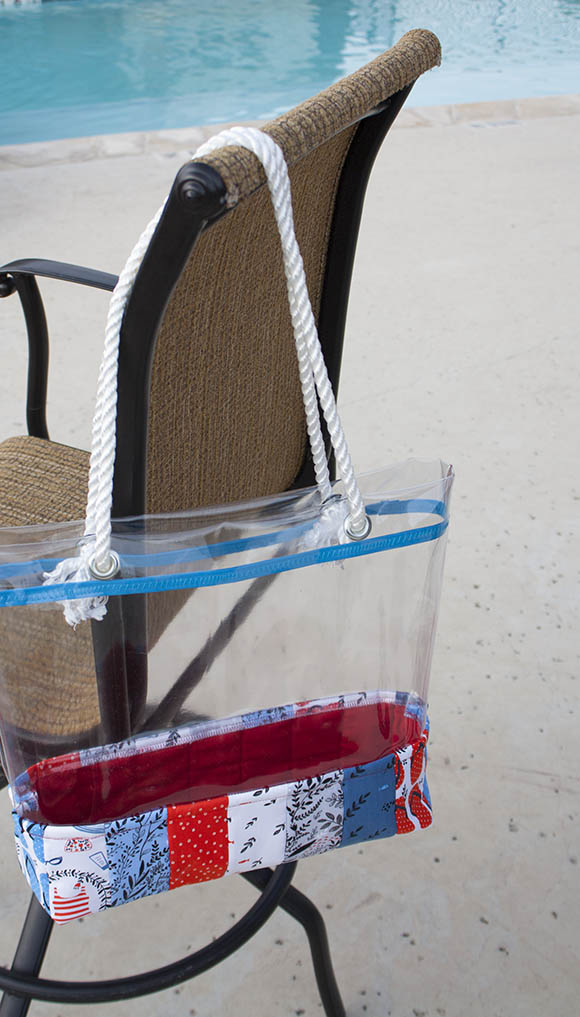 Ready for the giveaway so you can make your own tote or quilt? How about leaving me a comment and letting me know what you'd like to make with your Fat Quarter bundle? I'd love if you "liked" my Facebook page too! I'll draw the winners on Tuesday, May 27th and two lucky people will win Fat Quarter bundles… and maybe I'll throw in a Schlosser Designs pattern too! ;)  CLOSED
Don't forget to visit everyone else on the blog hop for more chances to enter:
Wed May 21 – Windham Fabrics
Thursday May 22 – Dinara Mirtalipova's
Friday May 23 – Schlosser Designs (That's me!)
Saturday May 24 – Melissa at Missouri Mel
Sunday May 25 – Terri at Quilted Fox
Monday May 26 – Nell at Nell's Notions
Happy Sewing!