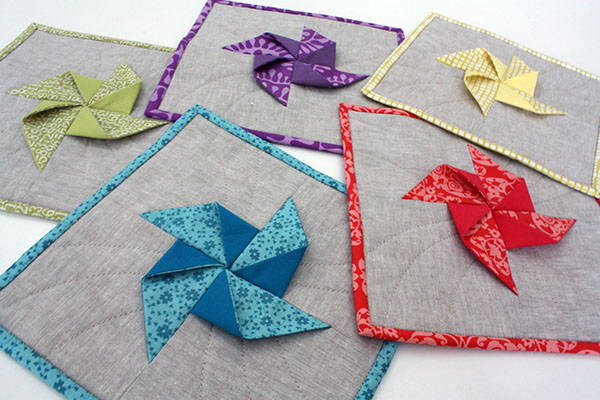 When Anna from the Etsy store Ciao Bella Solids asked me to participate in her blog hop and blogger bundle giveaway I jumped right on it! I absolutely love working with solid colors and she let me put together a super fun and springy palette! (Pst… check out her great solids! They are all Moda Bella Solids and they are $5.49 per yard! (That's a steal!!!) If you need more than 5 yards, check with Anna because she'll make you a custom listing for just $5 per yard!)
After looking at the color card I chose the following colors: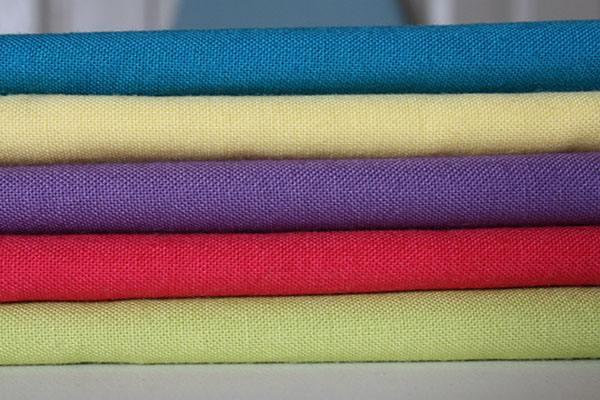 From top to bottom: Horizon Blue, Sunshine, Aubergine, Raspberry, and Chartreuse (To enter to win a Fat Quarter Bundle follow the instructions at the end of this post!)

If you want to purchase one right away, before they are gone you can find them here:
1 Yard Bundle (1 yard of each color for 5 yards total) $27.50
1/2 Yard Bundle (1/2 yard of each color for 2 1/2 yards total) $12.50
Fat Quarter Bundle (1 FQ of each color) $6.50
And here they are with my prints mixed in: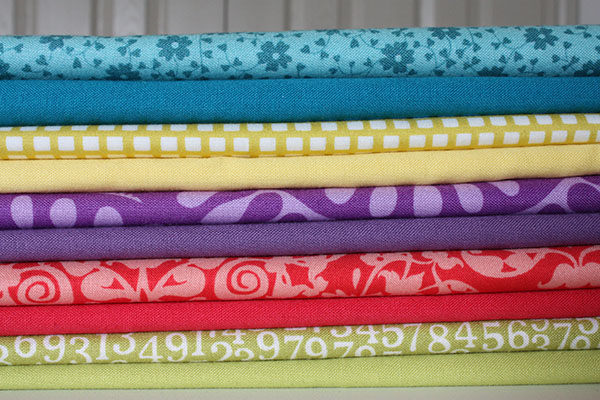 Aren't they fun, bright, and cheerful?!?
I decided to get my Mother's Day Gifts out of the way and use the fabrics to make some Pinwheel potholders.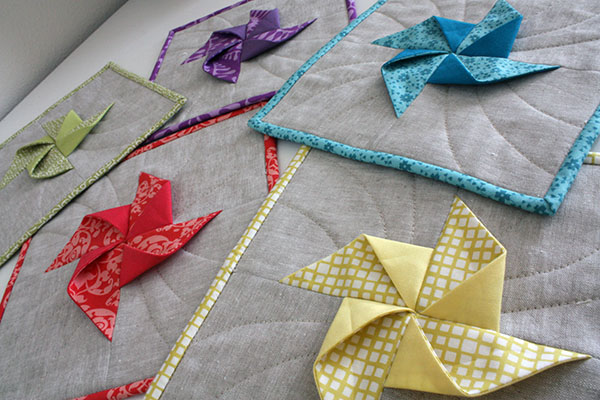 They've been in my sketchbook for a while and it's so nice to see them completed! My favorite part is that the pinwheels are 3D. Oh, and I love the little quilting I did to add "movement" to the pinwheels!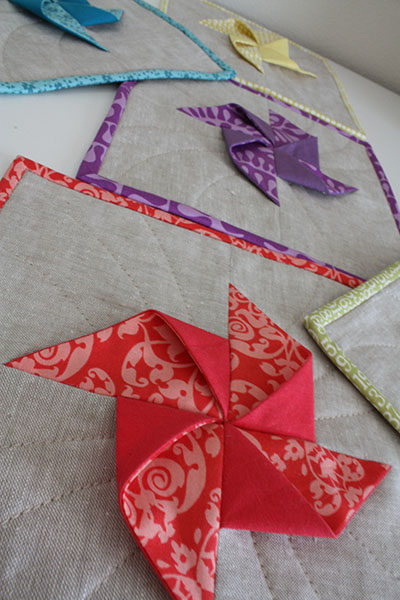 They are super easy to make! Here's how:
For each potholder front you'll need: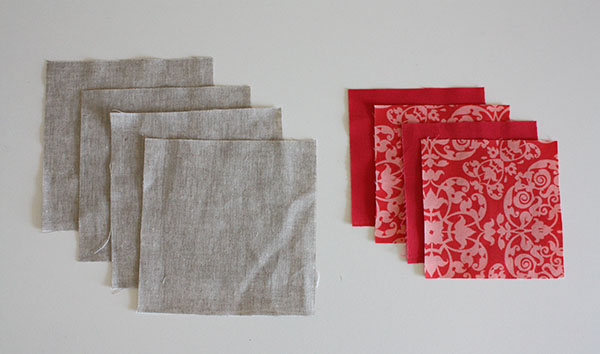 4 – 5″ squares of a background fabric
2 each – 4″ squares of two coordinating fabrics for pinwheel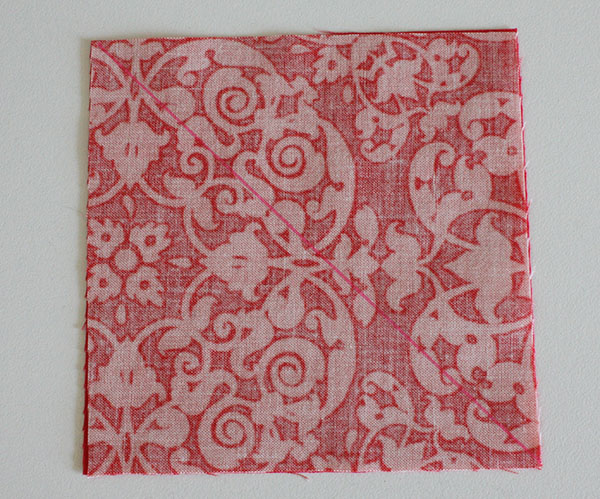 Stack the two coordinating prints (one of each) right sides together. Draw a line from one corner to the opposite corner.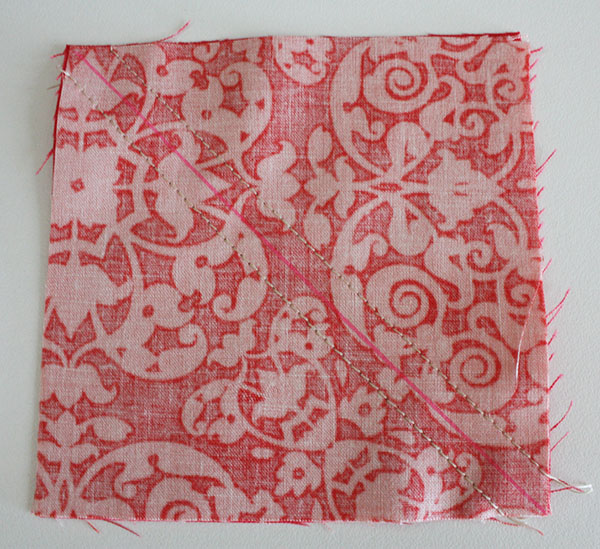 Stitch 1/4″ to either side of the line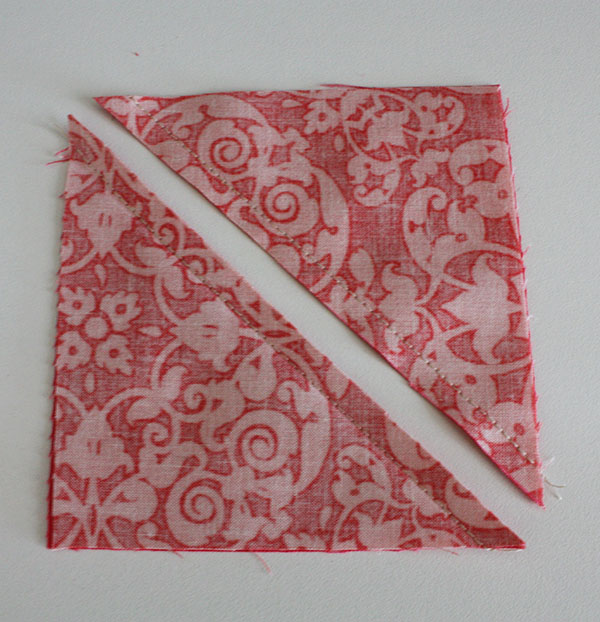 then cut the two pieces apart ON the traced line.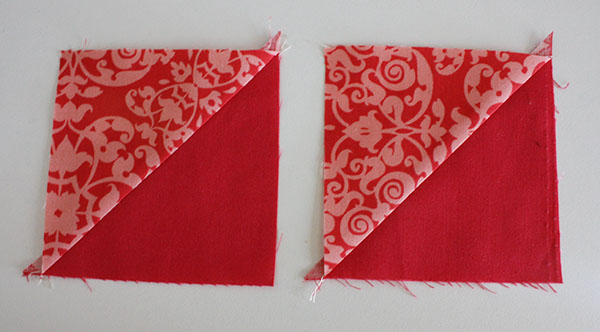 Open each piece and press, then fold so the wrong sides are together and press again.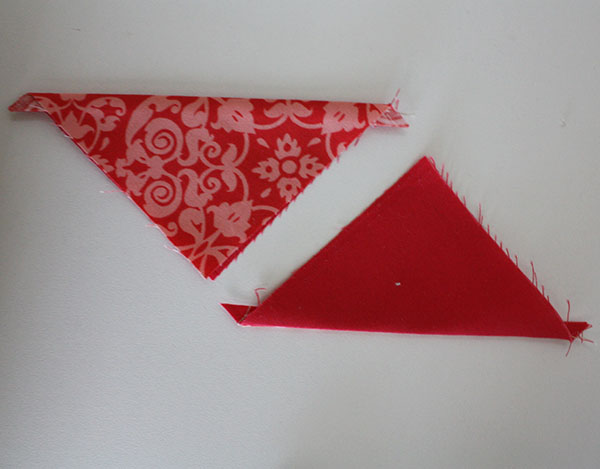 Repeat with the other two 4″ squares. You'll end up with 4 triangles total. (Only 2 are pictured here.)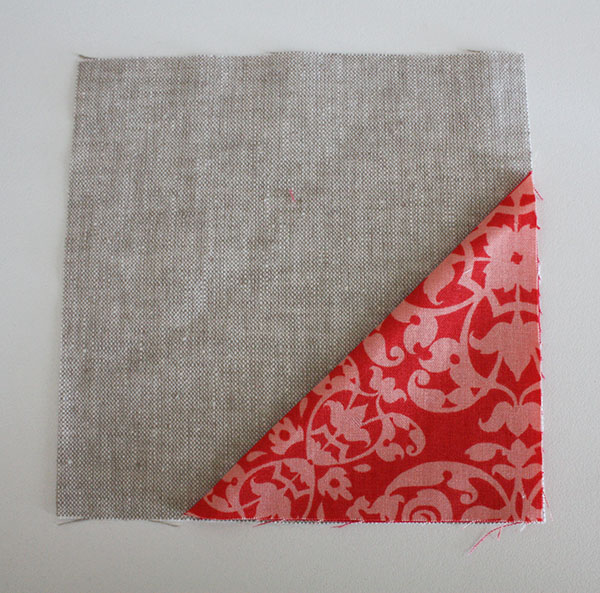 Place one triangle in the bottom right hand corner of one background square, matching up raw edges with the corner.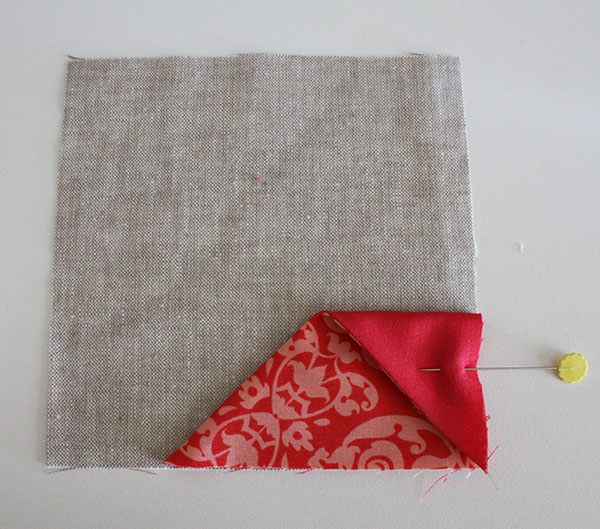 Fold the top triangle corner down to the bottom corner and pin.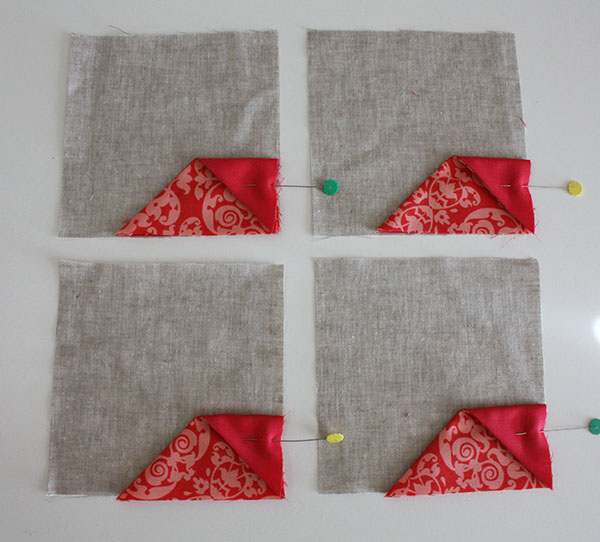 Repeat with the remaining background and triangle pieces.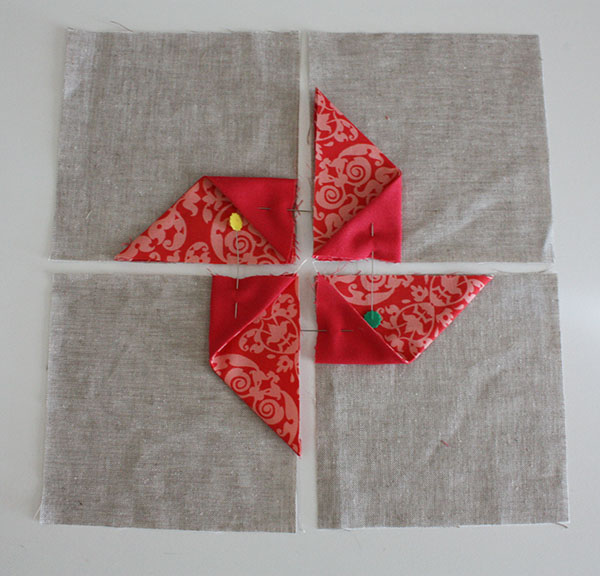 Layout in the pinwheel shape.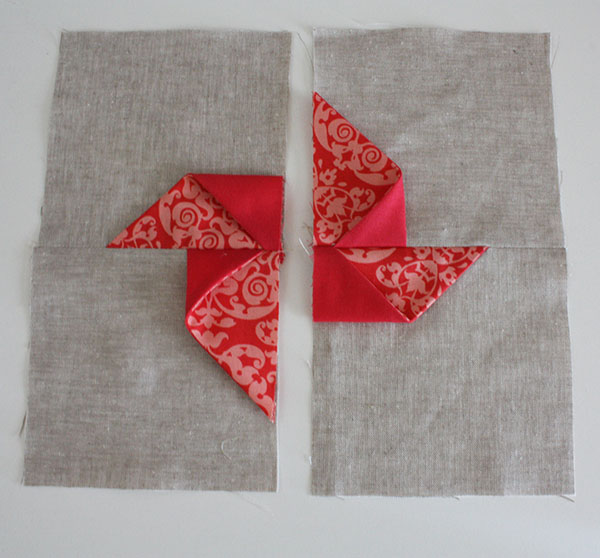 Sew top and bottom pieces together, press seams open.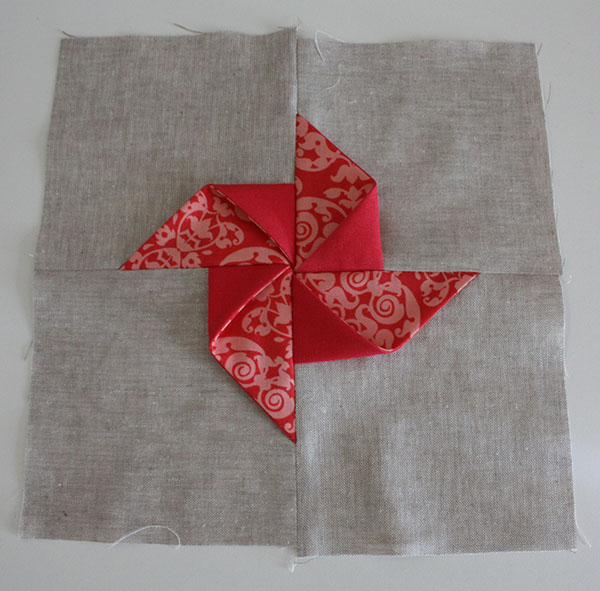 Stitch together to complete the block. (Because of all the fabric bulk in the center I started in the center and stitched to the edge, then flipped it around and sewed from the center to the other edge. This way it doesn't get stuck under your presser foot!)
Press well, make your quilt sandwich, and quilt as desired. Trim down to a 9″ square, add your binding, and admire your spring pinwheels!!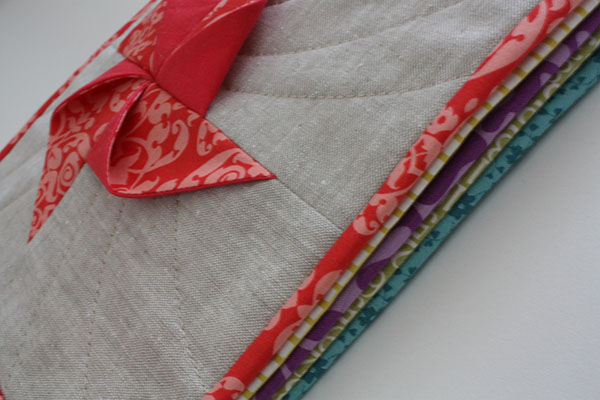 Ready for the giveaway? It's easy to enter to win a Fat Quarter Bundle of the solids spring bundle!
Leave me a comment by Midnight, April 29th! Let me know what your favorite thing about spring is. That's it! I'll choose a winner, contact you, and post on Tuesday, April 30th. Directly afterwards, Anna will send you a bundle, post haste! (Sorry, U.S. entrants only.)
Be sure to visit fellow Hot Tamales from the San Antonio Modern Quilt Guild:  Danielle at Nacho Mama's Quilts and Jen Eskridge (next week) to see their fun bundles! Lots of chances to win!
Happy Sewing!