I'm super excited to present to you the finished Laura Tote Pattern! This chic & glamorous tote is just waiting to be packed and taken to exotic locations, a picnic, or around town. It's a great size at 16″ square!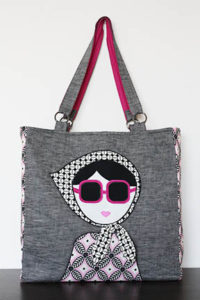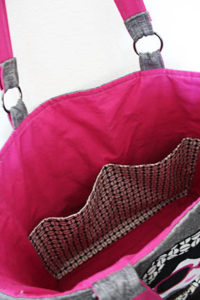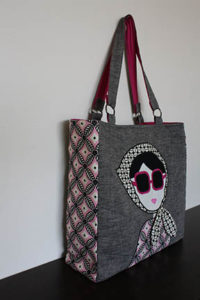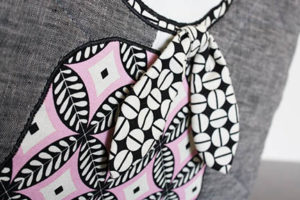 I can't pick just one thing that makes me so excited so I'll share a few:
-This is the first pattern that I'll be offering via either PDF or Print!! (Which means I'm now accepting wholesale orders!)
-This was a fun collaboration with Melissa at Iza Pearl Design. The original bag was made with her new line of fabric, Hello Gorgeous, for Windham Fabrics. (I LOVE this collection!!) "Laura" was inspired by "a photo of my mom from a trip she and my dad took… They renteda convertible to drive through the redwoods and my mom wore a fabulous head scarf and sported some fantastic sunglasses. I remember seeing the photo for the first time thinking how glamorously Hollywood she looked!"
-My patterns have a whole new look, also thanks to Melissa's pro graphic design skills. This allowed to make the patterns even more easy to follow via color coordinated illustrations and clear instructions!
I had some great help testing out this pattern! Look at their fantastic projects!
This is Sally's! I love the sassy red scarf and lips on this one! The yellow background is bright and cheerful, and coordinates with the yellow hair so well!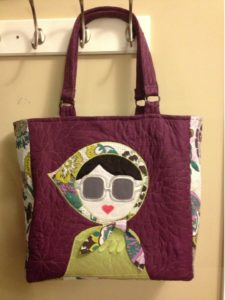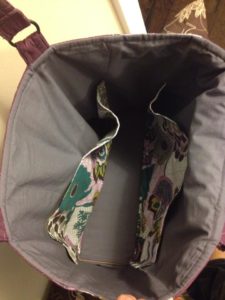 And Shelly's! I love that instead of quilting the background she used an old coverlet instead. Already quilted, just applique and sew up the bag! The sunglasses were made out of a little metallic vinyl scrap she had too! Shelly wanted her straps a bit shorter (which is easy to adjust with this pattern) so she made them a tab bit shorter. She also used the design option to add extra pockets inside! Look how roomy it is!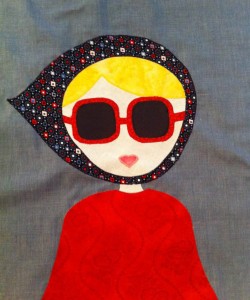 Amy – The scarf fabric on Amy's Laura girl is perfect!! In love!
Ready to make one of your own? You've got a few places you can find the pattern:
Etsy (I've just recently reopened my shop and more new patterns will be added as I update everything with the new pattern layout!)
I can't wait to see your Laura Tote!