Hello All!  I'm in the midst of CHA and packing but I'd thought I'd let you know about a little contest I was asked to participate in for DinoTalk.  They have the coolest recordable items that you can make into fantastic projects. With some of their items from the Naked line I was asked to make some pieces for their Scrapbook Invitational.  There's two ways to vote:
Visit Dinotalk at booth 1216 at CHA
Or
You can send your vote in a quick email to contest@dinotalk.com
They are still working on getting the pictures up on the site so let me show you what I did.  I wanted to not just embellish their products, but make the recording an integral part of the project.
The first project I did was with their XL Talking envelope.  When the flap on the envelope is opened it has a recording that plays.  I turned the entire envelope into a cute little house.  When opened, the envelope says "Welcome to the Neighborhood!"  Inside the envelope has a little packet of information about the neighborhood and city.  Wouldn't this make a great Welcome gift for that new neighbor?  (Did I just give you a sneak peek of my next download?  Maybe!)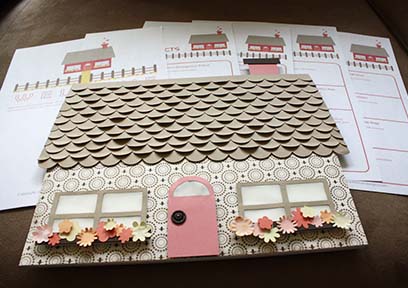 Here's a close up of the house.  Those flower boxes were inspired by my recent trip to Europe.  Germany and Austria houses have lots of little flower boxes on their windows!  Wondering where the envelope flap is?  It's the roof.  Lift up the roof to gain access to the folder!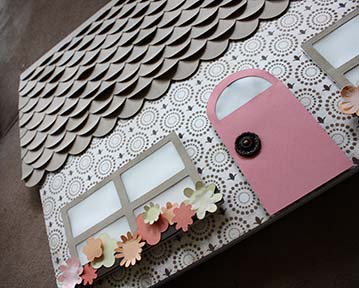 My next project was using their ornament.  I wanted to show the possibilities of using the ornament as more than just an ornament for the holidays.  I made it into a big, glitter covered lollipop!  The recording says "Thanks so much for helping me move, you are too sweet!"  Cute huh?  Inside is room for a gift card.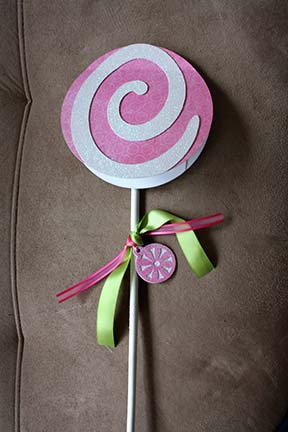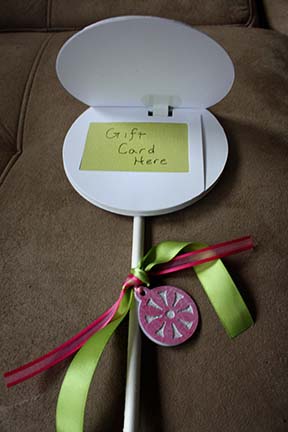 Next project was using their talking paper.  This is a really thick piece of paper that includes the recordable device right inside.  I made a sign to put by our front door.  I've been wanting a No Soliciting sign, but sometimes those just don't seem very inviting.  I made this great Welcome sign with a little place for Solicitors to push.
When they push it, the recording says "No Solicitors please….but Girl Scouts are welcome!"
Yes, their is a prize, but that's not my main focus for winning.  They are also being generous enough to match the $100 prize with a $100 donation to the Charity of my choice!!  I know it's being a bit presumptuous, but I already have the charity picked out.  If I win, the money will be going to the Fanconi Anemia Research Fund.  This is something near and dear to my heart after meeting a cute and fantastic little girl named Emma when we lived in Texas.  Emma has FA and inspired me to not only give blood for the first time, but sign up to be a bone marrow donor as well.  (You can read more about Emma's story here.)
So go vote!
Erin